Overview
Bulgaria's NPL stock is relatively high at €4.5 billion in December 2015, equivalent to a NPL ratio of 18.1% and a coverage ratio of 51.5%. Non-financial corporations accounted for 70% of the stock of gross NPLs, households for 29% and others for 1%.
The debt of non-financial corporations stood at over 100% of GDP. It is also highly concentrated. Based on a forthcoming analysis of firm-level data, one quarter of firms accounts for about two thirds of total outstanding net debt, while about 9% of firms are extremely leveraged (the leverage ratio exceeds 10). The 20 largest debtors alone account for almost 40% of the overall corporate debt overhang. Neverheless, based on the record of revenue growth and return on capital, Bulgarian firms are performing relatively well as compared to the regional peers.
 Highlights on NPLs (click to enlarge)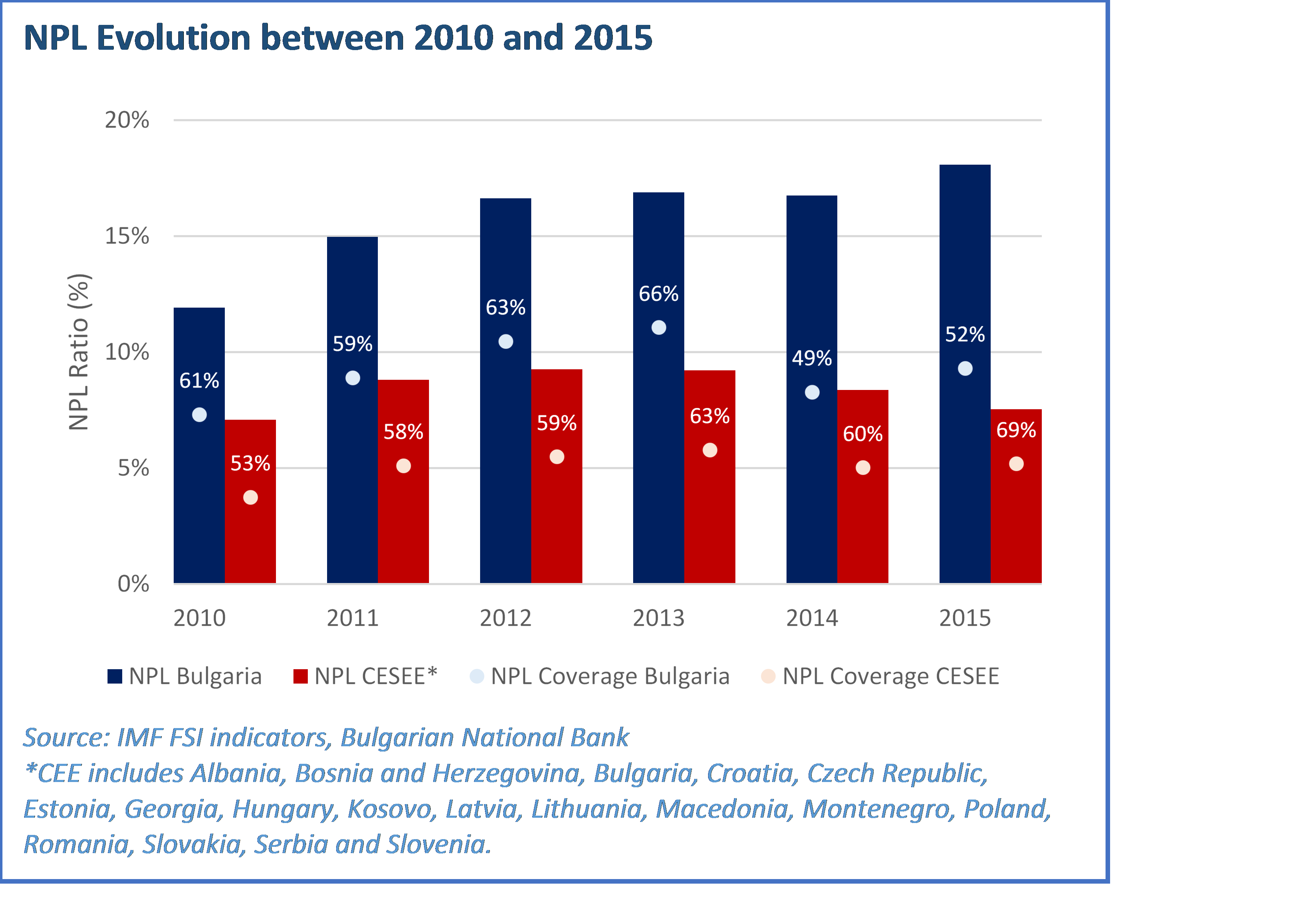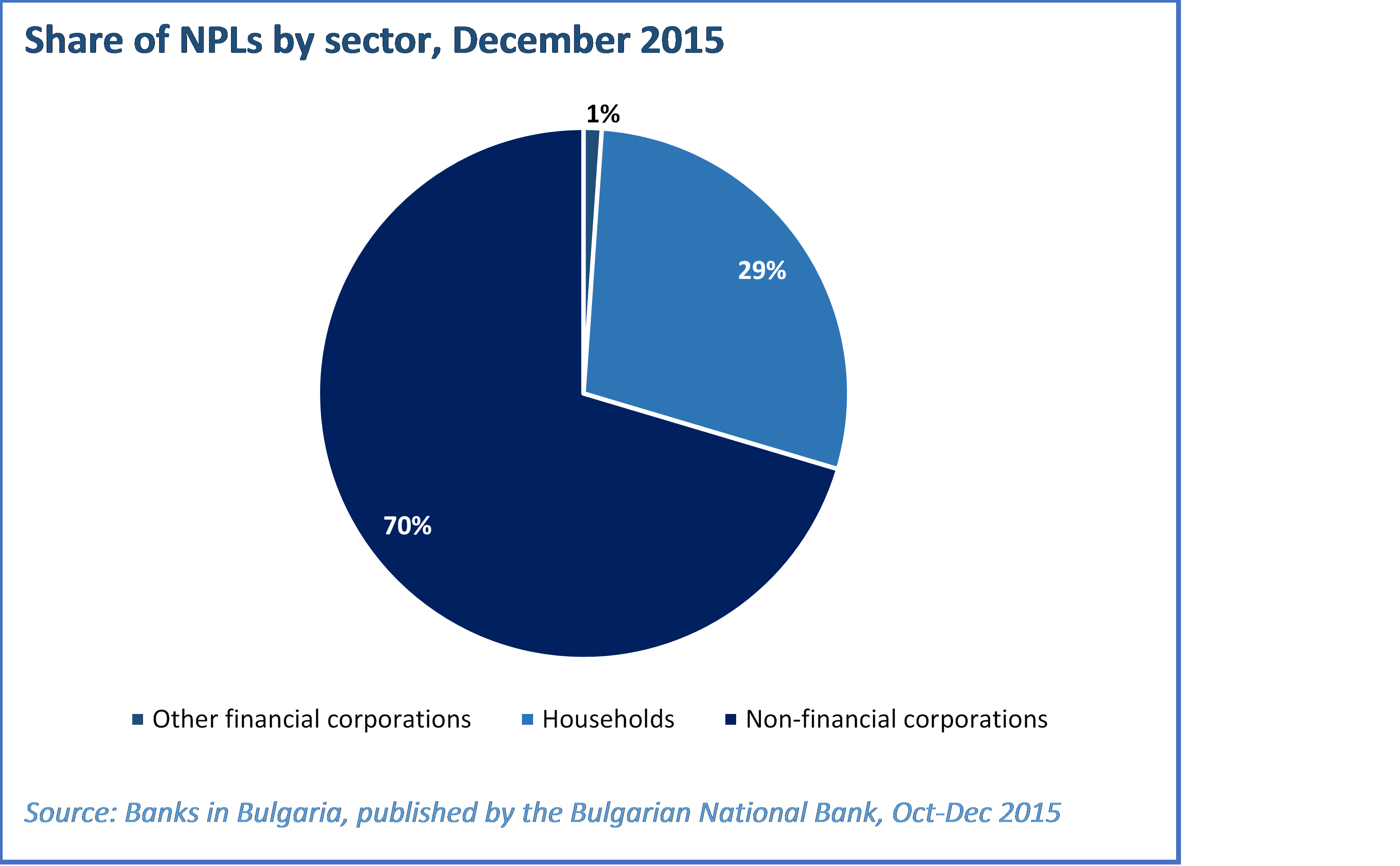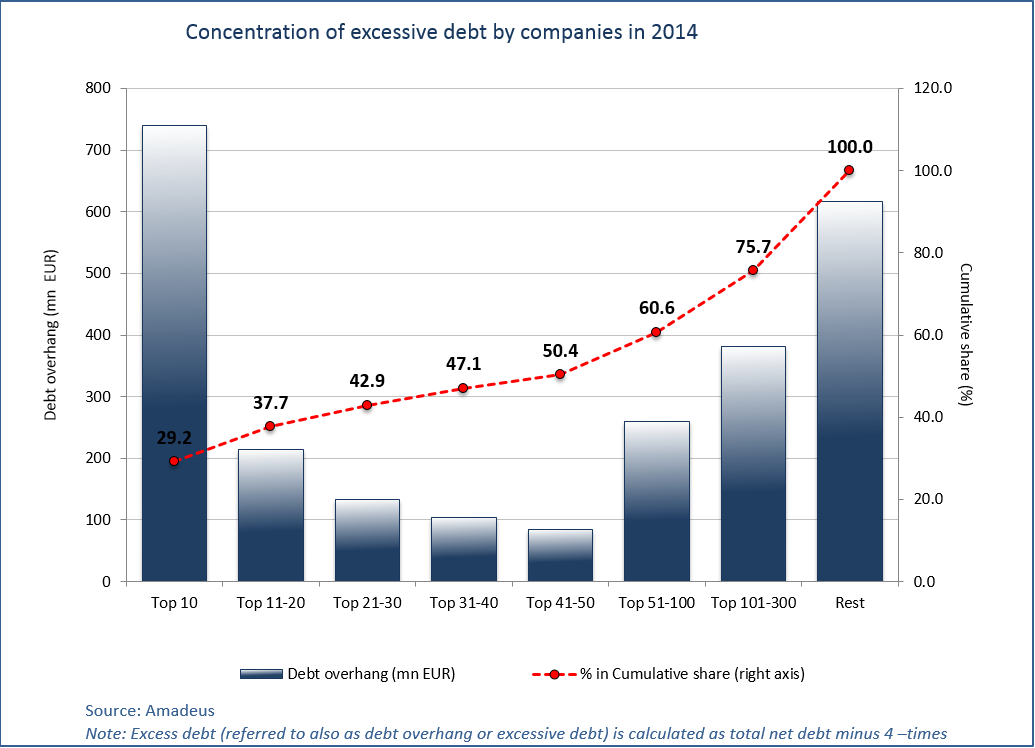 Assessment of NPL Burden and Corporate Debt Distress
IMF-World Bank, FSAP, Technical Note on NPLs, July 2017
See full text
World Bank Group, Report on the Observance of Standards and Codes (ROSC), Insolvency and Creditor/Debtor Regimes, June 2016
See full text
National Bank of Bulgaria, Banks in Bulgaria, June 2015
See full text
World Bank Group, Bulgaria's potential for sustainable growth and shared prosperity, July 2015
See full text
European Commission, Country Report Bulgaria 2016
See full text
European Investment Bank, CESEE Bank Lending Survey, H1 2016
See full text
National reforms and support by the international organisations
EBRD, Strategy for Bulgaria, as approved by the board of directors at its meeting on 8 July 2015,
EBRD strategy in Bulgaria is to strengthen the financial sector intermediation through targeted investments and improved governance.
Some of the key strategic priorities related to NPLs are:
To work with banks and the regulator to encourage sales of NPLs, including through investing in NPL portfolios, mobilising specialised NPL investors or financing NPL asset management companies.
To support the establishment of credible local corporate and secured NPL asset managers that can more efficiently service corporate and secured NPLs outside the banking system.
In close coordination with other IFIs, provide assistance to the Deposit Insurance Fund and other relevant financial authorities upon request to support implementation of appropriate organisational and procedural changes, as well as capacity building, as recommended by relevant technical assessments to improve the regulatory framework.
Providing the authorities' interest and commitment, to engage with Bulgaria's financial and judicial authorities, market participants and other IFIs, under the umbrella of the Bank's Vienna Initiative framework and in other ways, to advance the NPLs resolution agenda.
To (potentially) provide technical assistance and advice to improve the Corporate Insolvency Law and help to build the capacity of judges handling bankruptcy (reorganisation) and enforcement cases. In addition, the Bank will seek to support commercial banks with training on corporate restructurings best practices. This would assist banks and secondary investors by providing them with more effective tools for resolving and realising value from NPLs.
More
See full text
Workshops and events
Coming soon
National documents and other publications